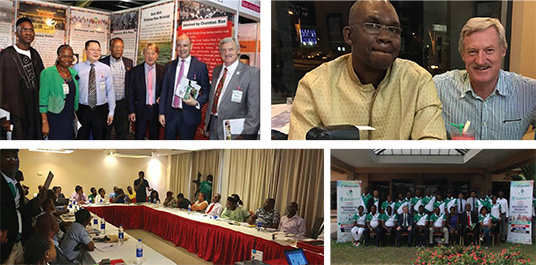 It was really wonderful to be back in Lagos after 3 years due to the Ebola Virus epidemic in the region. Always an exciting and exhilarating experience. This time it was done a little different to 2014.
The AIP, under the guidance of the WPO Training program in Packaging Technology undertook a three-day residential training program (RTP) in Food and Beverage Packaging Technology in Lagos, Nigeria, West Africa. The students were predominantly from Nigeria and more than ever before it was evident that there is a need, as well as a desire for some, across our globe to learn more in the science and technology of packaging. The students really absorbed all the knowledge that was imparted by both Kishan Singh from South Africa and myself.
I again was reminded that we who have the knowledge and experience have an obligation to help those in developing countries. In this event the standard was high and all students absorbed information like a sponge and could not get enough. They were keen and eager to learn which was evident in their continual interaction with the lecturers during the training.
Although this RTP program only covered the packaging technology relating to food and beverage, what drove the students which was evident in their questions, was how one can improve packaging, reduce costs, what their packaging counterparts were doing in developed countries and how they can improve packaging of foodstuffs to reduce wastage.
The organisational skills of our host, Mr Ahmed Omah from Nigeria Packaging, was quite exceptional. Nothing was an issue and all aspects ran exceptionally smoothly. We were impressed by his quickness of media releases during the week, for example course information, comments by students, all aspects that helped the next course that would run 4 days later on Cosmetic and Pharmaceutical Packaging.
During the ensuing 4 days the Agrofood plasprintpack Nigeria 2017 exhibition was held, during which I gave a presentation on 'Ingenuity in Packaging Design'. During this week the German Embassy held a Garden Party which some of us were privileged to attend. This was informative and good relationships were forged with the Swiss, French, German and Dutch Ambassadors present. This was followed by a one-day seminar hosted by Flexofit where I presented a paper titled 'How smart is Smart Packaging'.
We then commenced the three day residential training on Cosmetic and Pharmaceutical Packaging Technology. This well supported by industry with attendees having a good knowledge of packaging. They were very engaging and the dialogue between lecturer and attendee was really thought provoking.
There is a significant amount of informal packaging happening in Central and West Africa as well as from what I was told throughout the African continent. This is where vendors buy in bulk and repack into small pack sizes for 'open market' sales. It is therefore in this area of packaging that requires support, advice and help. The mere fact that a RTP was run in Nigeria is a start in helping in packaging training in general. Lots more education is required at all levels of the packaging spectrum, i.e. formal and informal sector.
Similar training programs undertaken by the AIP and supported by the WPO are planned for the rest of this year. The countries scheduled include Kenya, Vietnam, China, Italy and Iran. The aim is purely to get more people in developing countries educated in Packaging Technology. The road is long but most rewarding.